Winter is here! Are you and your home prepared for the white menace…the dreaded snow and ice? Stocking up on rock salt and sand or making sure the snow blower starts are just basic things that need to be done. While those are important tasks that need to be done, there is plenty more to do to prepare for the winter weather. There are many household tasks that need to be completed to ensure that you, your home, and your family are safe this winter. 
Here are some items that you should look into before the next snow covers the ground. Making sure your home and the area around your home is in top condition will make dealing with what comes with the winter season easier. 
Check Electrical Systems
Make sure to go over your electrical systems. The last thing you would want is to have a breaker blow for your kitchen and now the fridge, the stove, and the dishwasher no longer work. Keeping all of the electronic components of your home in working order is a must in the colder season.
Seal Leaky Doors and Windows
No one likes high electric bills whether it be for heating or cooling. One source of the higher bills could be that the seals around the windows or the doors are not preforming in top condition. The rubber wears down over time and may need to be replaced. You can do a simple test to make sure that the window and door seals are working by putting your hand up next to them. If you feel a draft, then you have a leakage problem.
Prep for Winter Storms
Don't be caught off guard when there is a power outage or blackout after a huge snowstorm. Keep plenty of non-perishable food, batteries, candles or flashlights, and warm clothing and blankets on hand. Because you don't know how long the power outage will last, be mindful of opening refrigerators and exterior doors. You don't want any cold air coming into the home or escaping the chilly confines of the fridge.
Check the Fireplace or Chimney
The chimney can be a dangerous part of the home if maintenance is forgotten. The creosote can build up over time and eventually catch fire or there could be plumes of smoke shoot back into the home. Creosote logs can be purchased to help get rid of the built-up or you can have your chimney cleaned by a chimney sweep.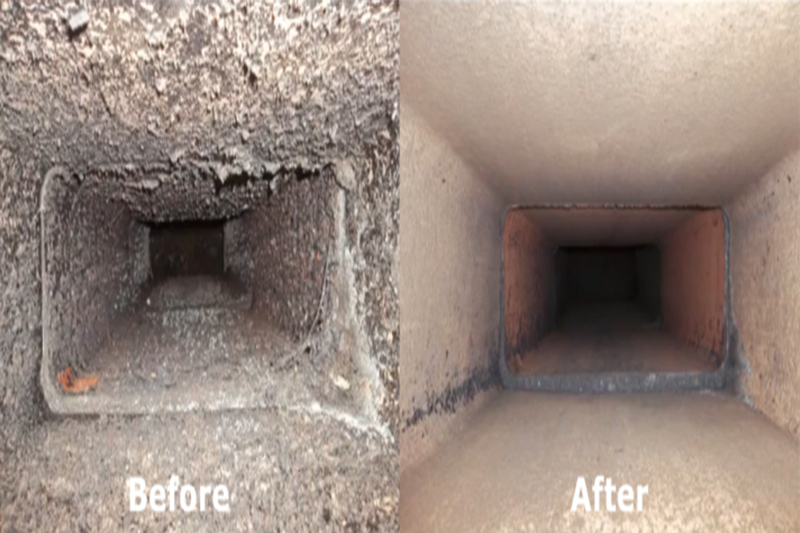 Protect Entryways
Tracking in all that rock salt or other snow and ice preventative can wreak havoc on your flooring. Lay a thick utility rug down in the entry way. This will help save your flooring or carpet from the yuck your feet track in.
Reverse Ceiling Fans 
Reversing the ceiling fan brings heat back down into the room and cut the chill of the winter weather outside. This can help lower energy bills by circulating warmth throughout the room.
Trim Tree Limbs
Lingering tree limbs just look spooky on a windy night. Now add the weight of a heavy snow and see how long those feeble branches hold up without snapping and dumping all that snow on whatever is underneath…like your car… Sweeping the snow off branches after each snow can help lessen the load and the chance of snapping. If the tree is older and sickly, it may be best to just chop it down to prevent breakage in the future. Remember, strong winds can also bring down trees, not just snow.
Clear Gutters
Clearing the gutters from debris before bad weather hits lessens the chance of icy water overflow. If your gutters are clogged, you could experience roof damage. Ice dams are dangerous and can not only cause damage to your gutters but could seriously injure someone walking beneath them if they happen to fall. Making sure your roof is well insulated is a good way to help lessen the chance of ice dams forming by keeping all the roof the same temperature.
Consider a Generator
If you live in an area where there are frequent blackouts or power outages then you may want to consider purchasing a generator. There are many different types and sizes to choose from. Choosing the correct size of generator will ensure that your home is heated efficiently during the yucky winter weather.   
---
If you enjoyed this blog content, make sure to check out ERA Liberty's other blog articles. We blog about all things real estate, local eats, and happenings in and around our community.
For all your home buying or selling needs, ERA Liberty Realty is always there for you! With two local offices to help you no matter where you are, our agents are knowledgeable of the area and the housing trends happening within them. Reach out to us today to get your journey started in West Virginia, Virginia, orMaryland!