The month started out hot, but as we continue on, cooler days are happening! Are you ready for the cool down of the Fall season? The real estate market is feeling the cool down as well, espeically for buyers. Rates are high and wages remain low. See what is going on in your market with the August 2023 market report. If you have any questions about the infographic, feel free to contact out office and be connected with a real estate agent.
The Breakdown
Morgan County witnessed some growth from July to August gaining 40 listings. Berkeley and Jefferson Counties saw some decline in new listing activity. All counties, however, are still getting nearly 100% of the asking price for the homes that are selling.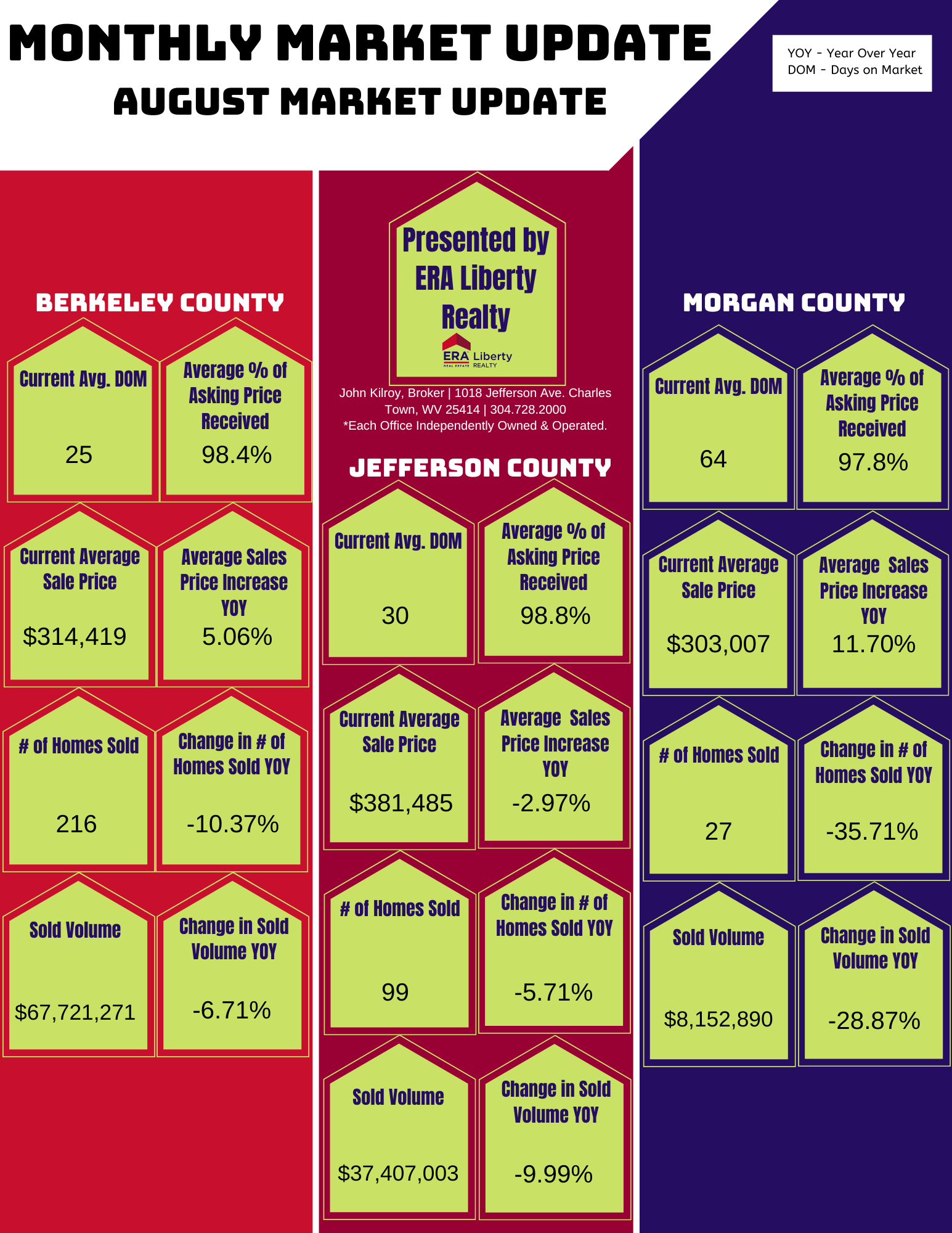 The number of homes sold are up across the board with Morgan County being the same number of solds from July to August.
On a yearly note, the number of homes sold has actually went down compared to August 2022. Jefferson County dropped about 10%, Berkeley County was down around 5%, and Morgan County dipped lower with nearly 36%. All in all, the market is still moving. Nothing can relate to the craziness that was the 2020 2021 housing boom. We are still returning to normal from the mass exodus of buyers into the local market.
---
If you enjoyed this blog content, make sure to check out ERA Liberty's other blog articles. We blog about all things real estate, local eats, and happenings in and around our community.
For all your home buying or selling needs, ERA Liberty Realty is always there for you! We are here to help you no matter where you are, we have agents licensed in West Virginia, Virginia, Maryland, or Washington DC! Reach out today to get your real estate journey started!