The second heatwave has hit the Eastern Panhandle – you can tell from all of the sprinklers now! The results are in for the June 2023 market report and we are here to tell you that some counties felt a cool chill of backtracking in June. Check out your June 2023 market report below to see which counties gained and which counties took a loss. If you have questions on the infographic, please feel free to call one of our office locations and ask for an agent!
The Breakdown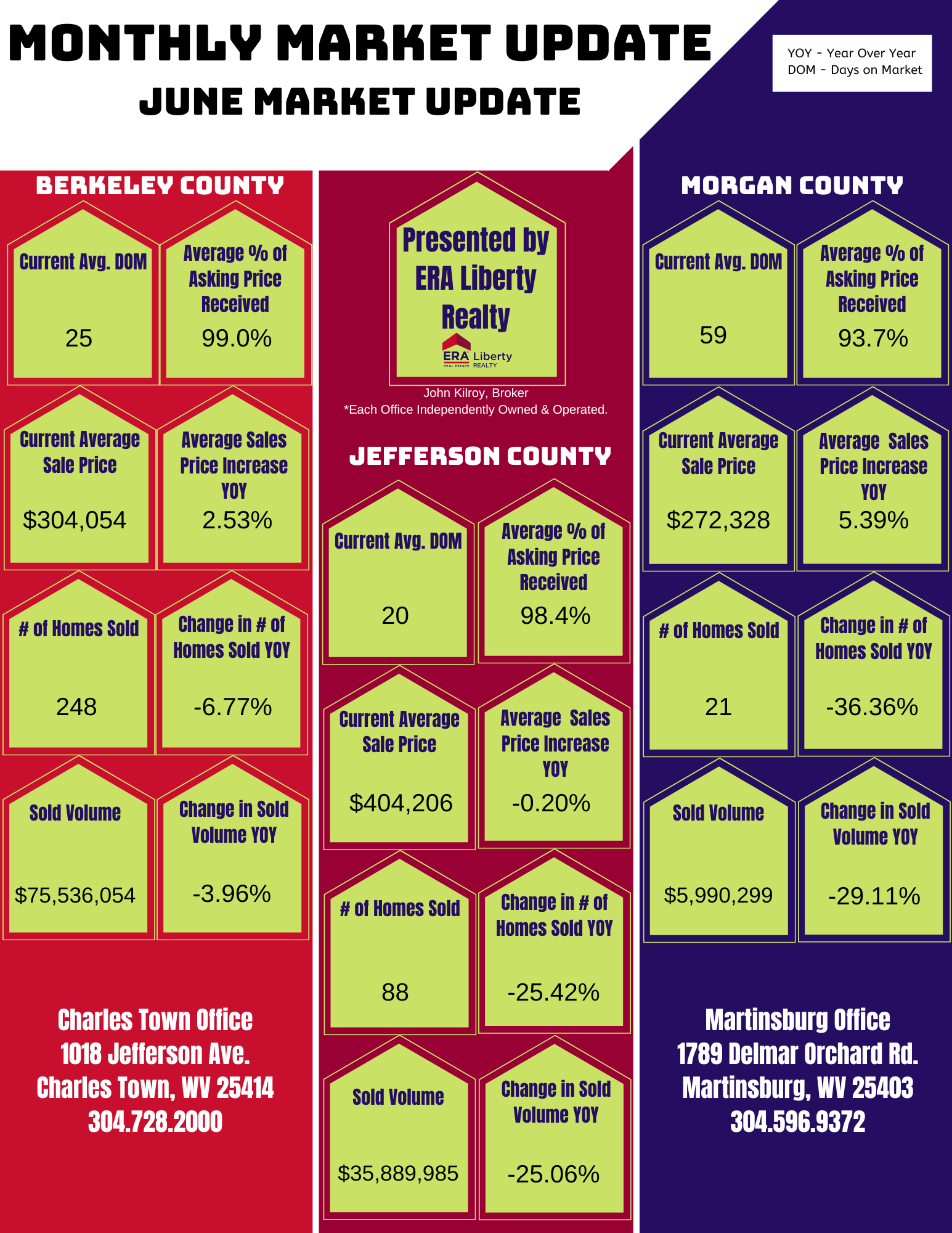 Berkeley and Jefferson Counties were feeling the heat in June as both had growth across multiple areas of the market report. Although, Morgan County didn't see growth compared to April. Coincidentally, the area went backwards in terms of days on market, number of homes sold, and the sales volume. Morgan County did two million less in sales in June than in April.
Berkeley County saw amazing growth shooting up in homes sold, less days on the market, and nearly a twenty million dollar gain in sales volume! Additionally, Jefferson County wasn't far behind with a rise in homes sold, sales volume, and days on the market. Jefferson County gained about two million in sales volume than in April.
The percentage of seller's getting asking price when their home goes under contract is still very high. All things considered, this means that it is still very much a sellers market.
---
If you enjoyed this blog content, make sure to check out ERA Liberty's other blog articles. We blog about all things real estate, local eats, and happenings in and around our community.
For all your home buying or selling needs, ERA Liberty Realty is always there for you! With two local offices to help you no matter where you are, our agents are knowledgeable of the area and the housing trends happening within them. Reach out to us today to get your journey started in West Virginia, Virginia, Maryland, or Washington DC!