Welcome to the May 2023 Market Report
Firstly, we may be going through somewhat of a drought here in the Eastern Panhandle, but that doesn't mean the real estate market is as well! Over the past weekend, ERA Liberty was booming with contracts so there is hope for a recovering market. The May 2023 market report may seem to tell you otherwise, but let's wait and see what June numbers look like before we jump to conclusions. In the meantime, let's get into the May 2023 market report!
Follow ERA Liberty's blog for monthly updates on Berkeley, Jefferson, and Morgan Counties. Because report data is from the previous month it takes time to collect and tabulate. If you have any questions about the numbers posted please reach out to one of our office locations. They will be happy to connect you with an agent to further the conversation about the April 2023 Market Report.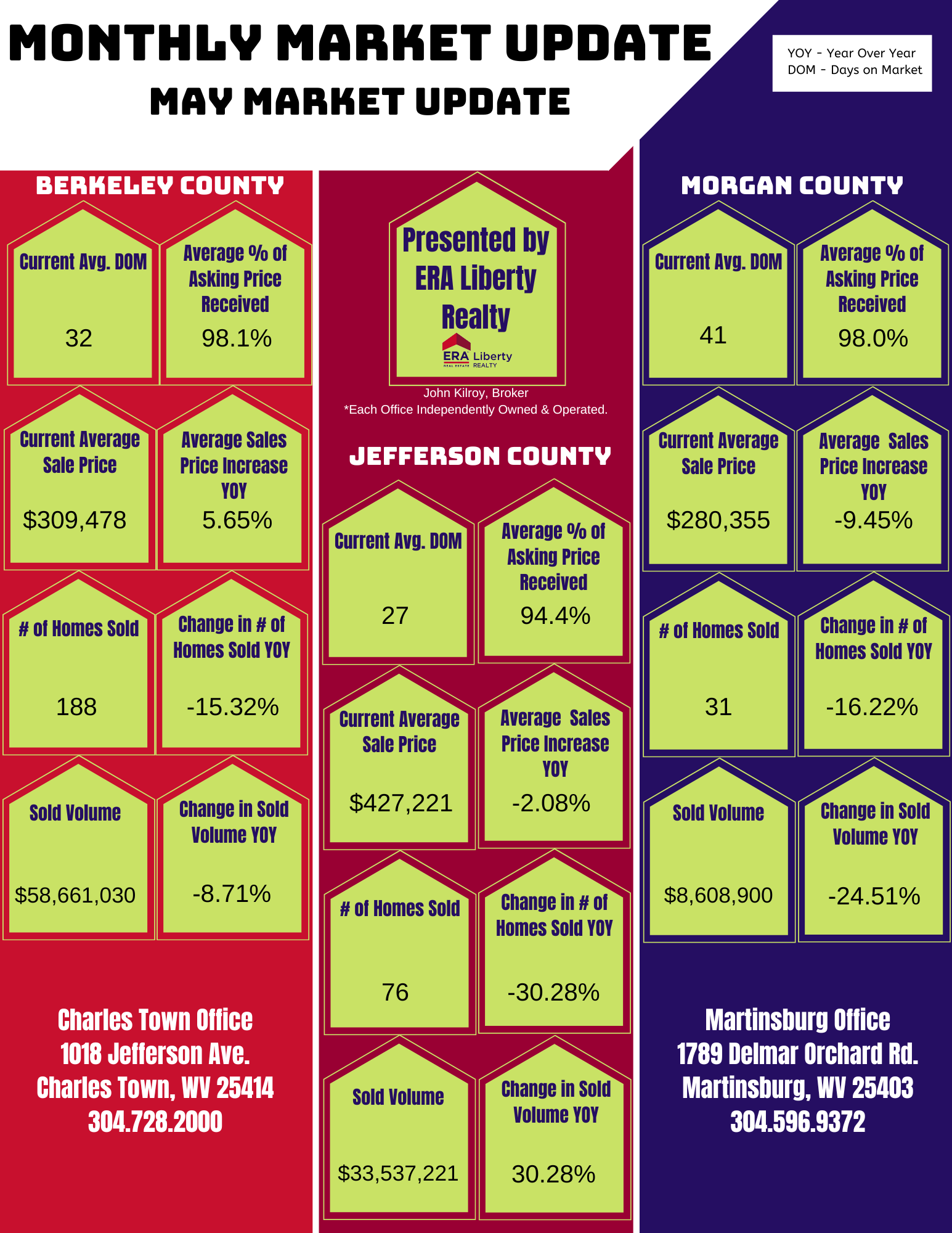 The Breakdown
For the month of May, Morgan County was riddled with negative change. First, the county saw a decline in sales volume. Secondly, they had less homes sold compared to last month. Lastly, the county had a drop in the average sales price. Coincidentally, Berkeley County was on a roll again with their nearly $60 million in sales last month, but they also dropped in home sales by 13 homes compared to April. Jefferson County's average sold price rose in May by $32,168. Also, Jefferson County had the lowest days on market while Morgan county had the highest at 41 days on market.

All counties were very close to receiving nearly 100% of the listing asking price – that should tell you that it is still a sellers market for those thinking of listing.
---
If you enjoyed this blog content, make sure to check out ERA Liberty's other blog articles. We blog about all things real estate, local eats, and happenings in and around our community.
For all your home buying or selling needs, ERA Liberty Realty is always there for you! With two local offices to help you no matter where you are, our agents are knowledgeable of the area and the housing trends happening within them. Reach out to us today to get your journey started in West Virginia, Virginia, Maryland, or Washington DC!